Regular price
€17,95 EUR
Sale price
€17,95 EUR
Unit price
per
Sale
Sold out
FRAGANCIA : Este aroma evoca una sensación de tranquilidad y elimina el estrés. Este aroma esta combina la lavanda y el ylang ylang con notas cítricos y una base de vainilla picante.
TIPO DE FRAGANCIA : Floral
Format + Ingredients

Glass jar with 335ml of 100% soy wax without genetically modified materials, pesticides, herbicides or stabilisers, grown in the USA.
Approximate burn time is 80 hours when burnt correctly./li>
Vegan. Phthalate free. Natural cotton and paper wicks with no dyes or toxins for a safer, cleaner burn.
High quality fragrances

* Delivery times may be extended during busy periods such as sales, product launches and Christmas, but we will always aim to dispatch your order within 24-48 hours where possible (excluding weekends).
Note

- Smell or burning of the candle and cracking is also common. Also our candles may vary slightly in colour due to photo/computer screen image and because they are made in smaller batches, although we try our best to do our best to ensure each candle is the same!

- It is normal to have frosting and condensation on the inside of the jar, this is due to the nature of the soy wax! Don't worry, this does not affect the candle itself at all.

- Because each candle is made in small batches, there may be slight variations in colour.
How to use candles:

The first time, the burning time should be long enough to melt the wax from edge to edge of the container, a "memory ring" will be created and the candle will continue to burn more easily and all the wax will be used. Do not burn for more than 4 hours each use. (It is normal for some of the wax not to melt. The amount may vary according to fragrance and burning conditions).

Cut the wick slightly before relighting (approx. 5 mm). When extinguishing, leave the wick as centred as possible while the wax is still liquid.

If you experience any blackness around the jar from soot, extinguish the candle and allow it to cool before wiping the jar with a cloth, this can be avoided by keeping the wick trimmed.  

To prevent the glass from breaking, stop burning your candle when there is only 12mm of wax left! If only they could burn forever, but they can't.

In general, it is recommended that candles cool for at least two hours before relighting.

Caution:

PRECAUCIÓN:

- Nunca dejes encendida una vela sin vigilancia.
- Nunca queme una vela cerca de objetos inflamables.
- Mantenla lejos de corrientes de aire, de elementos inflamables, de niños y de mascotas.
- Nunca mover o tocar una vela encendida, te puedes quemar con el vidrio. Solo tocar cuando la vela esta apagado y la cera se haya vuelto sólita por completo
- Puede causar una reacción alérgica. Por favor, compruebe los ingredientes para los alérgicos antes de comprar y usar.
- Colócala vertical y en una superficie adecuada. No la expongas a altas temperaturas. Respeta siempre una distancia mayor a 10cm entre velas encendidas.
- El uso de las velas correrá por su cuenta y riesgo.
Política de devolución y reembolso

Debido a que nuestros productos por encargo están hechos a mano, desafortunadamente no podemos aceptar ninguna devolución o emitir reembolsos.
Compartir
no animal tested

Palm oil free

Vegano y apto para mascotas
View full details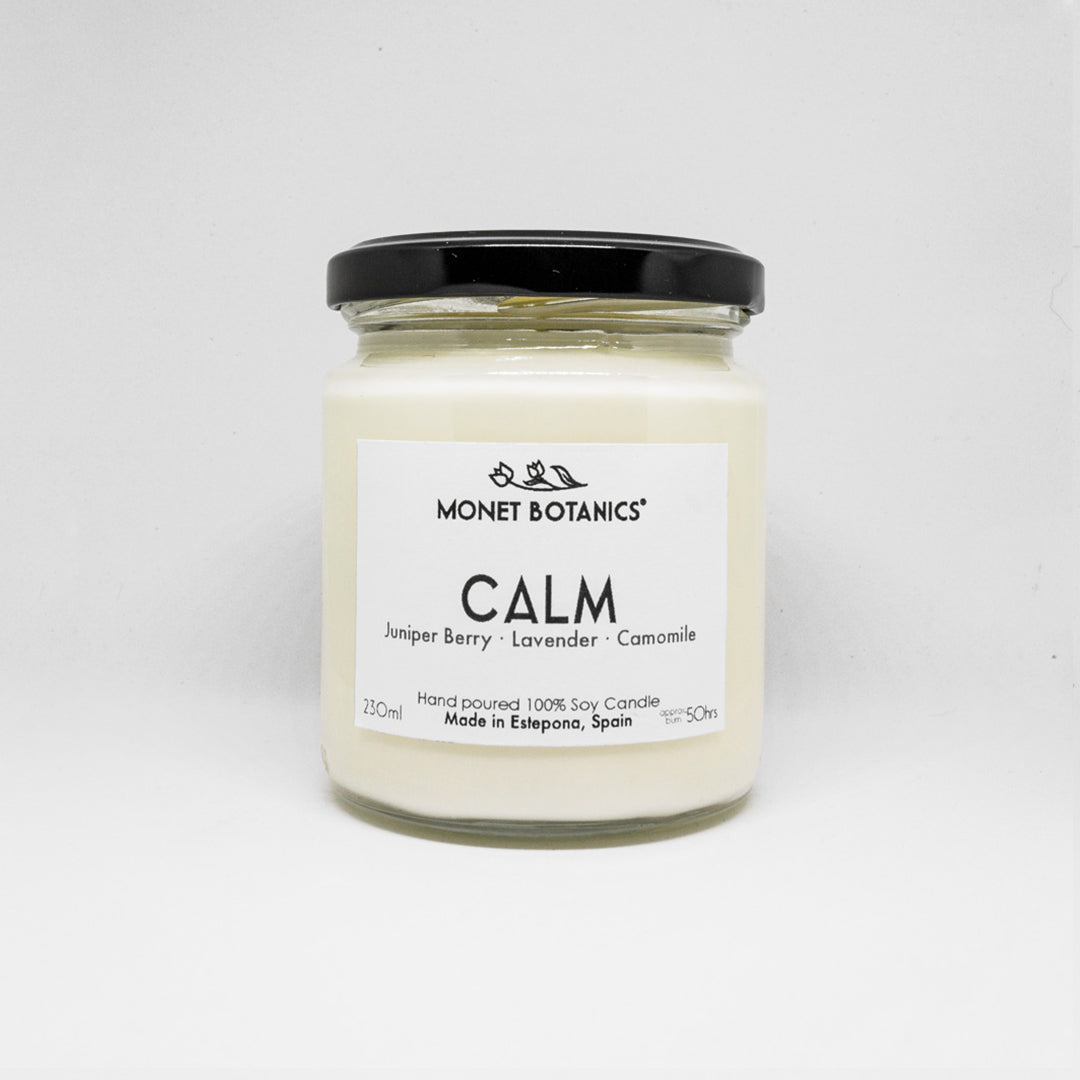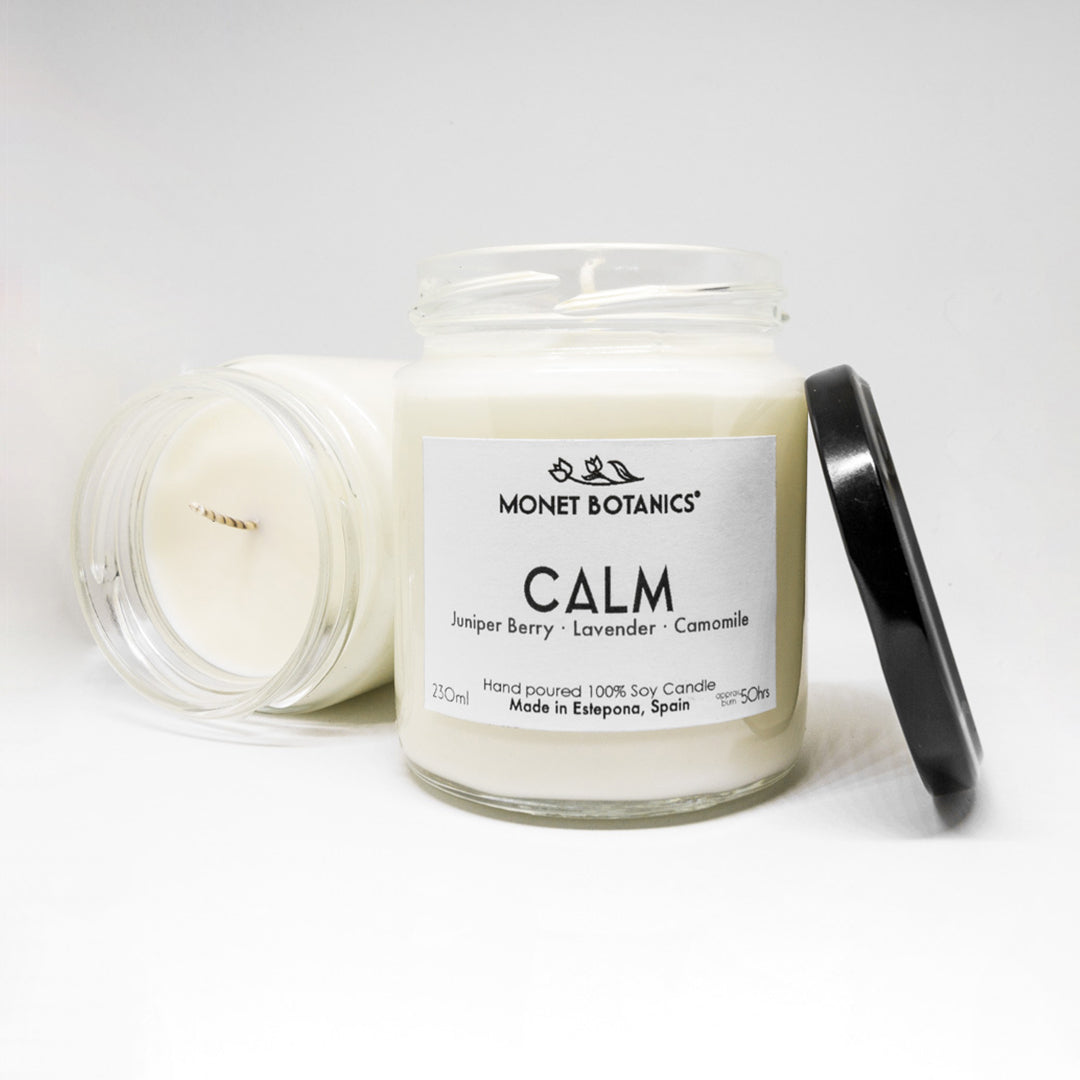 Deliciosos aromas, mi casa huele a serenidad
Se nota el cuidado en la preparación de los productos de Monet Botanics. El embalaje está hecho con cuidado, la nota personalizada, y se nota el cariño con el que está hecha cada vela. Calm ha dado una nota de serenidad a mis tardes. El envío al Reino Unido fue rápido y la atención al cliente excelente. Gracias Monet!
As soon as you open the carefully packaged box with your personalised note, you can tell every candle and wax melt has been lovingly made and packed to reach you safe and infuse your home with the most amazing scents. Calm delivers a beautiful serene smell which brings peace to my evenings, but all of Monet Botanics scents deliver just the same. Their customer service is phenomenal, and ordering into the UK was seamless
Thank you Monet!
Nice
Very nice smell ! My room smells very good now♥️
SOBRE MONET BOTANICS

Las velas de Monet Botanics están hechas a mano en pequeños lotes con cera de soja y etiquetados a mano en Estepona, Malaga. Todo para garantizar que obtengamos la máxima fragancia en todos y cada uno, y sean únicas para ti.  Cada fragancia ha sido probada cuidadosamente y en diferentes configuraciones de habitación para asegurar que sólo lanzamos absolutamente los mejores velas posibles.

¿PORQUÉ CERA DE SOJA?

Nuestras velas son 100% de soja, sin materiales genéticamente modificados, pesticidas, herbicidas o estabilizantes, y por supuesto no se parece en nada a la parafina (la cera de las velas de toda la vida). Pero, ¿sabes la importancia de ésto?

- La cera de soja es una cera vegetal 100% natural, obtenida directamente de la planta. La parafina proviene del petróleo, al igual que el plástico o los neumáticos. ¿Qué prefieres estar respirando?

- Nuestra cera de soja está certificada. Proviene de empresas de renombre en la industria, que garantizan una agricultura sostenible. 

- Es renovable, sostenible, biodegradable, vegana, cruelty free, kosher y de combustión 100% limpia, y dura mas que la parafina. Perfecto para hogares con niños o cualquier persona con alergias.

- La cera de soja admite mucha más cantidad de perfume que cualquier otra y se combustiona mucho mejor, ¡por eso nuestras velas huelen y duran tanto!