Regular price
Sale price
€17,95 EUR
Unit price
per
Sale
Sold out
FRAGANCIA : La perfecta fragancia otoñal que evoca pensamientos de Halloween y noches acogedoras en el sofá. Pumpkin Spiced Latte combina perfectamente un pastel dulce de calabaza mezclado con espresso con un toque de nuez moscada, azúcar para crear una sensación de calidez y comodidad.
TIPO DE FRAGANCIA : Dulce
Format + Ingredients

Glass jar with 335ml of 100% soy wax without genetically modified materials, pesticides, herbicides or stabilisers, grown in the USA.
Approximate burn time is 80 hours when burnt correctly./li>
Vegan. Phthalate free. Natural cotton and paper wicks with no dyes or toxins for a safer, cleaner burn.
High quality fragrances

* Delivery times may be extended during busy periods such as sales, product launches and Christmas, but we will always aim to dispatch your order within 24-48 hours where possible (excluding weekends).
Note

- Smell or burning of the candle and cracking is also common. Also our candles may vary slightly in colour due to photo/computer screen image and because they are made in smaller batches, although we try our best to do our best to ensure each candle is the same!

- It is normal to have frosting and condensation on the inside of the jar, this is due to the nature of the soy wax! Don't worry, this does not affect the candle itself at all.

- Because each candle is made in small batches, there may be slight variations in colour.
How to use candles:

The first time, the burning time should be long enough to melt the wax from edge to edge of the container, a "memory ring" will be created and the candle will continue to burn more easily and all the wax will be used. Do not burn for more than 4 hours each use. (It is normal for some of the wax not to melt. The amount may vary according to fragrance and burning conditions).

Cut the wick slightly before relighting (approx. 5 mm). When extinguishing, leave the wick as centred as possible while the wax is still liquid.

If you experience any blackness around the jar from soot, extinguish the candle and allow it to cool before wiping the jar with a cloth, this can be avoided by keeping the wick trimmed.  

To prevent the glass from breaking, stop burning your candle when there is only 12mm of wax left! If only they could burn forever, but they can't.

In general, it is recommended that candles cool for at least two hours before relighting.

Caution:

CAUTION:

- Never leave a burning candle/burner unattended.
- Never burn a candle/burner near flammable objects.
- Keep your wax out of reach of children and pets.
- Scented waxes are harmful to aquatic life with long lasting effects.
- May cause an allergic reaction. Please check ingredients for allergy sufferers before purchase and use.
Return and refund policy

Because our custom made products are handmade, unfortunately we are unable to accept any returns or issue refunds.

We are unable to accept any returns or issue refunds.
Share
no animal tested

Palm oil free

Vegano y apto para mascotas
View full details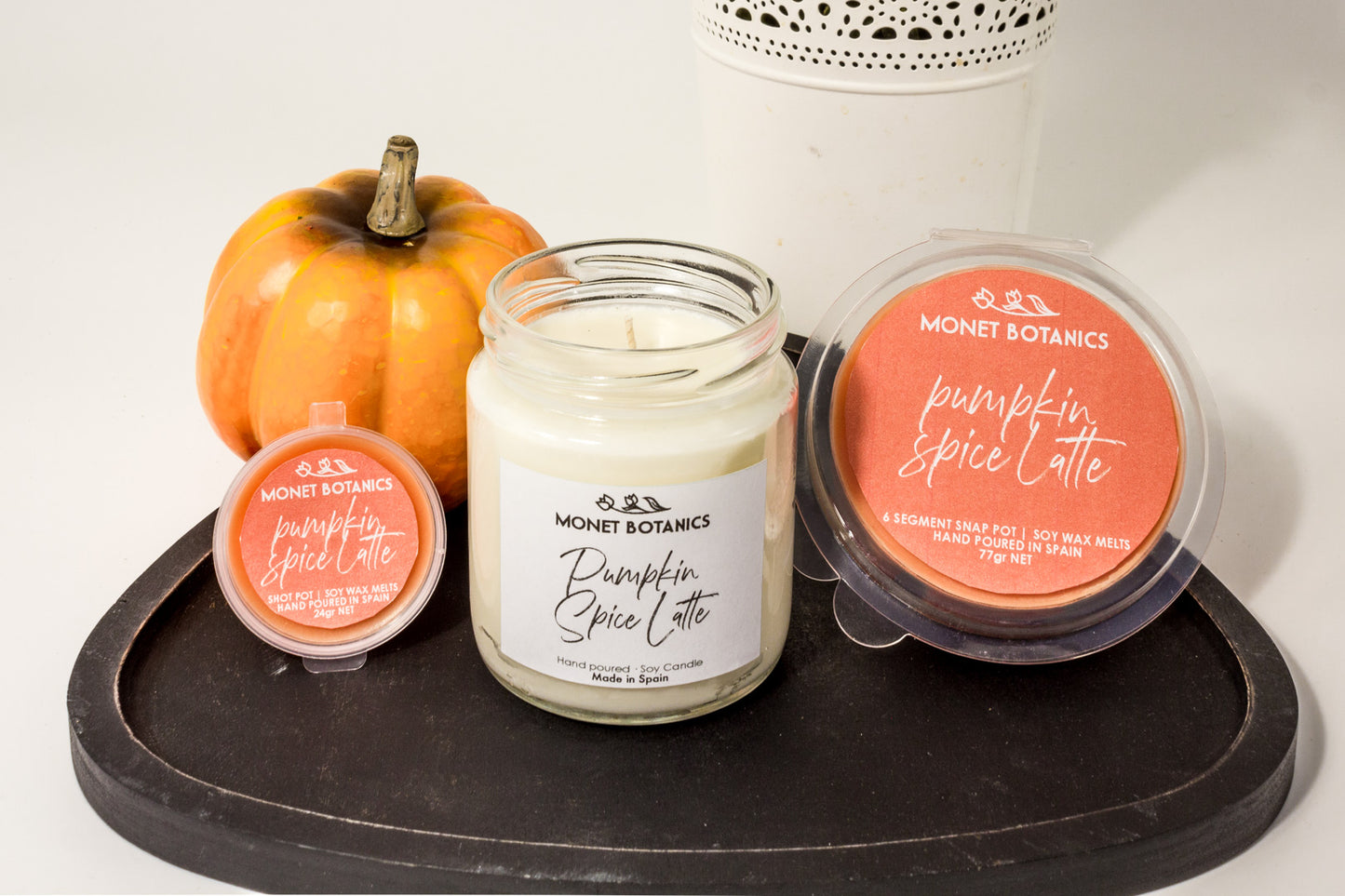 Increíble!
Me ha encantado esta vela, tiene un olor dulce a café, canela... Súper acogedor. No quiero que se acabe!
Pumpkin Spice Latte
He comprado distintas velas i todas huelen de maravilla. Però la que mas me ha gustado ha sido la Pumpkin Spice Latte! Un olor perfecto para otoño y invierno. Crea un ambiente acogedor en casa. Voy a repetir segur!
5 star ⭐️⭐️⭐️⭐️⭐️
I bought two beautifully fragrant candles.. Gingerbread and Pumpkin Spice chai latte.. I love them and have ordered two more .. great quality candles . 5 star ⭐️⭐️⭐️⭐️⭐️
SOBRE MONET BOTANICS

Las velas de Monet Botanics están hechas a mano en pequeños lotes con cera de soja y etiquetados a mano en Estepona, Malaga. Todo para garantizar que obtengamos la máxima fragancia en todos y cada uno, y sean únicas para ti.  Cada fragancia ha sido probada cuidadosamente y en diferentes configuraciones de habitación para asegurar que sólo lanzamos absolutamente los mejores velas posibles.

¿PORQUÉ CERA DE SOJA?

Nuestras velas son 100% de soja, sin materiales genéticamente modificados, pesticidas, herbicidas o estabilizantes, y por supuesto no se parece en nada a la parafina (la cera de las velas de toda la vida). Pero, ¿sabes la importancia de ésto?

- La cera de soja es una cera vegetal 100% natural, obtenida directamente de la planta. La parafina proviene del petróleo, al igual que el plástico o los neumáticos. ¿Qué prefieres estar respirando?

- Nuestra cera de soja está certificada. Proviene de empresas de renombre en la industria, que garantizan una agricultura sostenible. 

- Es renovable, sostenible, biodegradable, vegana, cruelty free, kosher y de combustión 100% limpia, y dura mas que la parafina. Perfecto para hogares con niños o cualquier persona con alergias.

- La cera de soja admite mucha más cantidad de perfume que cualquier otra y se combustiona mucho mejor, ¡por eso nuestras velas huelen y duran tanto!